Are you looking for a way to transport vehicles such as ATVs, motorcycles, and jet skis? Toy haulers are the perfect solution! Toy haulers provide garage space on wheels so you can take all your favorite recreational vehicles wherever you go. Toy haulers come in many shapes and sizes, so no matter what size toy or how many toys you want to carry, there's a toy hauler out there for you.
This article will give you an overview of toy haulers and their features so that you can make the best choice for your recreational needs. We'll also cover different types of toy haulers, some of the best models on the market, how much a toy hauler costs, and the difference between a travel trailer and a toy hauler. Finally, we'll answer some Toy Hauler FAQs to wrap up. Let's dive in!
What Is A Toy Hauler?
Toy Haulers are a type of recreational vehicle (RV) that offer the perfect solution for transporting large toys such as ATVs, dirt bikes, snowmobiles, and jet skis. Toy haulers are like a garage on wheels and come in various shapes and sizes to accommodate different toys.
Toy hauler RVs typically features an open space with tie-downs and wall tracks to secure your gear. The main living area can be found above or behind the toy hauling area, providing a comfortable place to relax and an extra space to hold your outdoor gear.
A toy hauler can be a fifth-wheel trailer, pop-up camper, sport utility vehicle (SUV), toy box trailer, and even a motorhome.
They also have separate living quarters from the garage space, which allows you to enjoy all the amenities of your home while you're out on the road. They may also be equipped with special features such as outdoor showers and kitchenettes for added convenience while camping.
Toy Hauler RVs have become increasingly popular due to their versatility in recreational activities such as camping or boondocking (traveling without hookups). With Toy Hauler RVs, you can take your toys wherever your heart desires without worrying about leaving them behind or renting something else whenever you go out for an adventure.
The Main Features Of A Toy Hauler
Toy Haulers offer many features and benefits that make them ideal for all recreational activities. Toy haulers have specialized features such as large cargo areas, extra storage space, outdoor showers, mud flaps, and more. Let's take a look at the main features Toy Haulers have to offer:
Toy Hauler Cargo Area
Toy haulers usually feature an open area with tie-downs and wall tracks so that you can securely transport your toys. Toy haulers may include additional compartments or shelves on one side of the cargo area to access tools and supplies while traveling easily.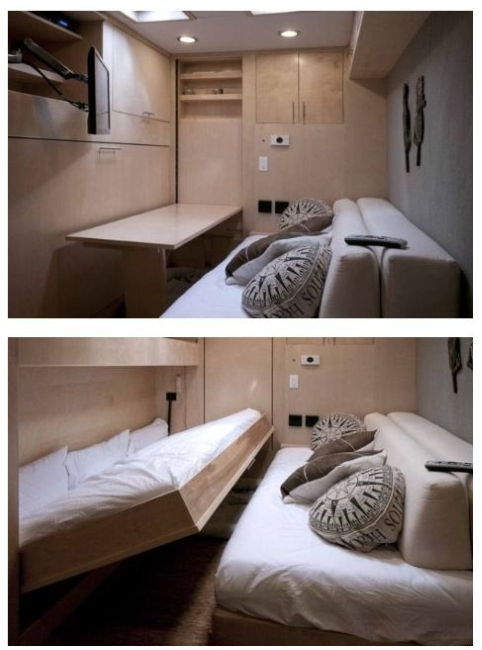 Extra Storage Space
Toy Haulers are designed with extra storage compartments so you can easily bring your camping gear and other supplies on your trip. Toy haulers also offer plenty of room in the garage area to store larger items such as bikes, kayaks, and paddleboards.
Outdoor Showers
Toy Hauler RVs often come with built-in outdoor showers that make it easier to clean up after a long day of fun in the sun. Some Toy Hauler models even feature detachable shower heads so you can rinse off while still inside the RV!
Mud Flaps
Toy Haulers are designed with optional mud flaps to protect against debris and road hazards encountered on adventures off the beaten path. This helps keep your Toy Hauler safe from any potential damage caused by rocks or other debris.
Carrying Capacity
Toy haulers are built to carry heavy loads, so you won't have to worry about whether or not your Toy Hauler can handle the weight of all your toys and supplies. Toy haulers come with various carrying capacities depending on the model, allowing you to easily transport whatever toys and gear you need for your next adventure.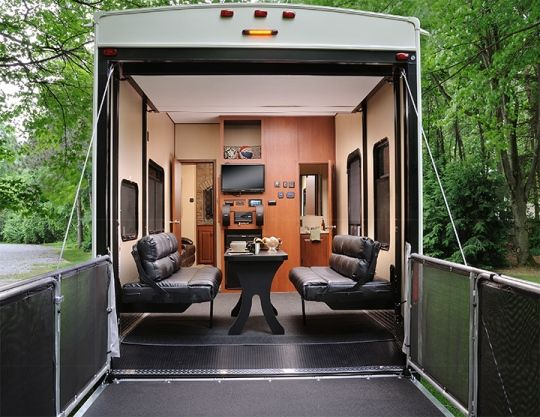 What Are The Best Toy Haulers?
With so many Toy Haulers on the market, choosing the right one for your needs can be hard. Here are some of the top-rated Toy Haulers that will make your adventure a breeze:
Heartland Torque 281
This fifth-wheel travel trailer offers plenty of storage and a large cargo area to transport your toys easily. It also features an outdoor kitchenette with a cooktop, refrigerator, and sink so you can easily prepare camping meals.
Forest River No Boundaries 19.1
This lightweight camping trailer has a roomy interior with sleeping space for up to 3 people and extra storage compartments for all your supplies. It also comes with 2 slide-outs, so you can have more room to move around.
Jayco Octane 222
The Octane provides the convenience of a Motorhome with the flexibility of a toy hauler. It's designed with an outdoor kitchen, a spacious living area, and a private bedroom for comfortable camping trips.
Coachmen Adrenaline 2955
This fifth-wheel travel trailer has heavy-duty suspension systems and larger tire options to handle rough terrain without sacrificing comfort or safety. It also has plenty of room for your toys and supplies in its large cargo area and extra storage compartments.
Coleman Lantern 251TQ
This Toy Hauler offers all the benefits of RVing and the convenience of carrying your favorite motorized toys. It features a spacious interior, extra storage compartments, and an outdoor shower and kitchenette for camping trips.
How Much Does A Toy Trailer Cost?
Toy trailers can cost anywhere between $20,000 and upwards of $100,000, depending on their amenities. Motorized toys like ATVs and dirt bikes require an even sturdier Toy Hauler that can withstand more wear and tear, so these tend to be pricier than standard Toy Haulers. However, with the right Toy Hauler, you'll have a reliable vehicle for outdoor adventures that will last for years.
What You Need To Know Before You Buy A Toy Trailer
Before you purchase a Toy Hauler, there are a few things you need to consider to ensure your buying experience will be a successful one.
Budget
You need to budget accordingly as Toy Haulers range in price depending on their features and amenities such as floor plans, materials used, layout designs, etc.
Research Features
It's important to research different features and determine which one is best for your needs. For example, Toy Haulers come with various floor plans that can include additional sleeping or storage space or even outdoor kitchens and bathrooms. You should also ensure the floor plan can accommodate everything you plan to bring along.
Check Size
Another thing to consider is the size of the Toy Hauler. You want to ensure it's large enough for all your supplies and toys but not too big that it becomes difficult to maneuver. For example, if you plan camping with multiple people, look for a larger Toy Hauler model that offers more space.
Durability
You can easily determine the durability of the Toy Hauler based on the type of material used in making the hauler. Heavy-duty steel frames and aluminum siding are great options for long-term quality, as they won't dent or rust easily.
Compare Models
It always helps to compare different models to see which ones offer the most value for your money before making the final purchase decision.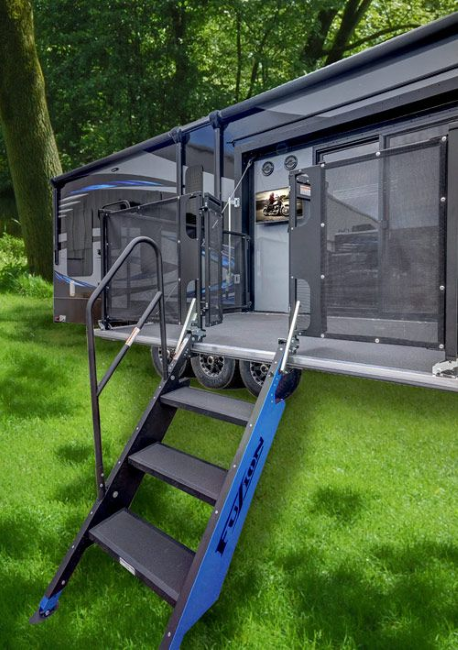 Differences Between A Travel Trailer And A Toy Hauler
When buying an RV, one of your biggest decisions will be which type you should get. Travel Trailers and Toy Haulers provide endless possibilities for fun road trips, but they also have different features that may make one a better fit.
Cargo Type
The main difference between a travel trailer and a toy hauler is the type of cargo they carry. Travel trailers are designed to transport various items such as luggage, camping gear, tools, and other recreational items you may need while on vacation.
On the other hand, toy haulers are built to transport heavier items such as golf carts and motorcycles. In addition, toy haulers have larger floor plans than traditional travel trailers, which allows for more living space, storage compartments, outdoor kitchens, and slide-outs.
Off-Roading
A second difference between a travel trailer and a toy hauler is how they handle off-roading. Toy haulers feature heavy-duty suspension systems with larger tires, so they can easily handle rough terrain and even rocky surfaces. At the same time, travel trailers don't have these features and may not be able to tolerate the same conditions without suffering damage.
Cost
Finally, toy haulers are more expensive than traditional travel trailers due to their additional features. Toy Hauler models come equipped with mud flaps for extra protection against debris and detachable shower heads for rinsing off after a fun day outdoors.
They also feature higher carrying capacities allowing them to transport more items like golf carts and motorized toys without difficulty.
In addition, many Toy Hauler models include luxury amenities like outdoor kitchens, private bedrooms, slide-outs for extra room, and space-saving storage compartments that all add up in price.
Toy Haulers FAQs
What is the point of a Toy Hauler?: Toy Haulers are designed to transport heavier items like golf carts and motorcycles, provide more floor plan space than traditional travel trailers, and easily handle off-roading due to their heavy-duty suspension systems.
How much can a toy hauler carry?: Toy hauler garages can typically carry up to 6,000 pounds. However, the exact weight capacity will depend on your specific model.
What can fit in a Toy Hauler?: A Toy Hauler can fit a variety of items, including golf carts, motorcycles, camping gear, tools, luggage, and other recreational items. Some models even have private bedrooms or kitchenettes for comfortable camping trips.
Can one drive a Toy Hauler?: Yes, Toy Haulers can be driven just like a regular RV. They feature heavy-duty suspension systems and larger tire options so they can handle rough terrain without sacrificing comfort or safety.
How do I transport my Toy Hauler?: Transporting your Toy Hauler is easy. All you need to do is reach out to an RV transport company.
Who makes the best Toy Hauler?: The best toy haulers are made by companies with great reputations for their craftsmanship, such as Coleman Lantern and Keystone Outback. They offer a variety of Toy Hauler models that all feature high-quality materials, durable construction, and endless possibilities for outdoor adventures.
Conclusion
Toy Haulers are an excellent option for those who want to take their camping and recreational activities to the next level. With endless possibilities, Toy Haulers provide a safe way of transporting heavier items, such as golf carts and motorcycles, while still enjoying home comforts.
Whether you're looking for more living space, luxury amenities, or off-roading capabilities, there is sure to be a Toy Hauler model that meets your needs. Make sure you research different models from reliable brands before making your final purchase so you can experience all the benefits these vehicles offer.
Additionally, you would need a reliable RV transport company to transport your toy hauler from and to any destination of your choice. Interstate Haulers is the best RV transport company with decades of experience and a solid track record of excellence in transporting all kinds of recreational vehicles across the United States. Reach out to us to get a quote for toy hauler transport today.