When it comes to hosting outdoor events, one of the most important things to consider is the comfort and convenience of your guests. Whether you're an event planner or a homeowner hosting a backyard party, you want to ensure that your guests have access to clean and comfortable restrooms.
Fortunately, restroom trailers can give you all of that. A restroom trailer is a perfect solution for any outdoor event, and it offers comfort that regular portable toilets cannot match.
This article will discuss what restroom trailers are, the different types of restroom trailers, their benefits, and their cost. We will also take a look at how to set up and run a restroom trailer.
What Is A Restroom Trailer?
A restroom trailer is a temporary restroom facility typically used for outdoor events such as festivals, backyard parties, and weddings. These luxury trailers provide the same level of convenience, comfort, and sanitation as permanent restrooms, with the added benefit of being mobile and easily transportable.
They are also known as shower trailers, mobile restroom trailers, or portable bathroom trailers. These trailers are typically self-contained with their own water supply, waste storage tanks, air ventilation system, sink, countertop space, interior lighting, and other amenities depending on the chosen model.
Some restroom trailers even have climate control systems to ensure guests stay comfortable in any weather conditions. Restroom trailers come in various designs and sizes, so it is important to find the right model for your event.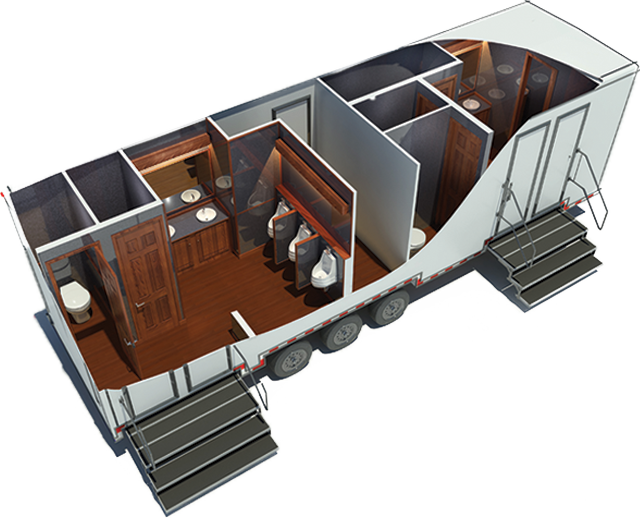 Types Of Restroom Trailers
The most common types of restroom trailers include standard and luxury models and ADA-compliant units.
Standard Trailers
Standard restroom trailers come equipped with basic amenities such as toilets, sinks, and countertops, providing a comfortable and convenient option for event attendees. These trailers are ideal for smaller events, where a larger and more luxurious restroom facility may not be necessary.
With a standard restroom trailer, event planners can ensure that their guests have access to clean and well-maintained facilities without investing much money in a more expensive structure.
Luxury Restroom Trailers
Luxury restroom trailers are a step up from traditional portable toilets and offer a range of extra amenities to make your event or gathering more comfortable and convenient. These trailers come equipped with advanced climate control systems, so you and your guests can enjoy a comfortable environment, even on hot or cold days.
One of the standout features of luxury restroom trailers is the private shower stalls. This is especially useful for outdoor events, festivals, and camping trips, where you might need access to traditional shower facilities. The changing rooms in these trailers are also convenient, providing a private and secure space to change clothes or freshen up.
ADA-Compliant Restroom Trailers
Ada-Compliant Restroom Trailers are similar to luxury restroom trailers but designed to meet the requirements of the American Disabilities Act (ADA). These ADA-compliant models feature wider doors and bathrooms to accommodate wheelchairs or wheelchair users. They also often feature grab bars in toilet areas and shower stalls for added safety.
Ultimately, there is no wrong choice when selecting the best restroom trailer for your event—it simply depends on your needs, budget, and preferences.
When selecting a restroom trailer for your event, make sure you consider factors such as size (number of guests), location (indoor/outdoor), weather conditions (heat/cold), desired amenities (showers/changing rooms), etc. Knowing these details will help you decide whether to rent or purchase a restroom trailer.
Benefits Of A Restroom Trailer
In addition to comfort and convenience, restroom trailers have several benefits that make them ideal for outdoor events. These include:
Self-Sufficiency
Restroom trailers require no external water or sewer hookups, making them incredibly convenient to use in remote locations or places without existing restroom facilities. The trailer has a water tank and waste storage tanks, allowing it to be used in almost any location.
Climate Control
Many portable restroom trailers come with climate control systems such as air conditioning and heating to ensure comfort during the summer and winter. This feature allows the trailer to be used in even the most extreme weather conditions.
Portability
Portable restroom trailers can easily be towed from location to location, making them ideal for events held in multiple locations or requiring frequent repositioning.
Hygienic
Restroom trailers are kept clean through regularly-scheduled maintenance visits, providing your guests with optimal hygiene and sanitation at all times.
Easy Installation and Removal
The restroom trailer can be installed and ready to use within a few hours, making it easy to quickly set up your event venue without worrying about permanent restroom construction projects getting in the way. Additionally, they can easily be removed after the event, leaving no trace other than memories of an amazing time.
Cost Effective
While these trailers may seem more expensive than portable restrooms upfront, when you factor in their convenience, features, and long-term cost-efficiency, they become much more budget-friendly – not to mention they provide a much better experience for your guests!
Sustainable
Restroom trailers are also much more sustainable compared to traditional portable toilets. They use significantly less water, and the waste storage tanks can be emptied at designated disposal sites or commercial wastewater facilities for an extra fee.
Customizable Options
Depending on what type of event you're hosting or how many people you expect will attend, there are often customizable options available, including extra sinks, additional toilet stalls/urinals, larger water tanks/waste storage tanks, etc., ensuring that your restroom trailer meets all of your specific needs without breaking the bank.
How To Set Up And Run A Restroom Trailer?
Setting up and running a restroom trailer is a straightforward process that anyone can do with the right guidance. Here is a step-by-step guide on how to set up and run a restroom trailer.
Step One: Trailer Rental
The first step in setting up your restroom trailer is renting the ideal model for your event. When renting a trailer, consider factors such as size (number of guests), location (indoor/outdoor), desired amenities (showers/changing rooms), etc. Also, make sure you choose a model that meets ADA requirements for inclusivity.
Step Two: Trailer Installation
Once you have selected the best restroom trailer, it's time to install it at your event venue. To do this properly, you will need an appropriate flat surface or level ground to place the trailer on – it should be far enough away from any structures or trees that may obstruct access or block airflow while also being close enough to an electrical hookup if needed.
It's important to note that some models may require professional setup due to their size and weight, so make sure you know all installation requirements before attempting it yourself.
Step Three: Hiring Professionals
If you are not comfortable handling the installation yourself, consider hiring a licensed contractor who specializes in setting up restroom trailers for events – they can provide expert advice regarding setup requirements and perform any necessary repairs or maintenance tasks if needed throughout your event.
Step Four: Trailer Maintenance
After installing the bathroom trailer at its designated location, perform regular maintenance to keep it operational and sanitary. This includes ensuring that all components are functioning properly, such as lights, plumbing fixtures, air conditioning/heating systems, etc., as well as cleaning and sanitizing surfaces regularly using disinfectant products approved by local health officials.
Additionally, check waste tanks periodically throughout the event to ensure they are emptied when necessary – this will help prevent unpleasant odors from developing within the trailer!
Step Five: Laws & Regulations
Make sure you familiarize yourself with all applicable laws regarding restroom rentals before renting or purchasing a bathroom trailer so that you can comply with them when running your business or event operations successfully.
This includes understanding any necessary permits or licenses required for operating in different locations as well as abiding by local health codes regarding minimum standards of hygiene and sanitation when providing facilities such as restrooms for public use – these regulations vary from state to state, so make sure you research them thoroughly before making any decisions!
How Much Does It Cost To Hire a Restroom Trailer?
The cost of hiring or renting a restroom trailer will vary depending on the size, features, and amenities you choose. Generally, prices can range anywhere from $700 to $1800 per day. However, it's important to note that this figure could be higher or lower depending on any additional services you require, such as delivery/setup costs, waste removal fees, etc.
Need To Haul Your Restroom Trailer?
Restroom trailers are a necessity for outdoor events of all kinds, as they provide extra space and privacy for guests to use the restroom in comfort.
When transporting your restroom trailer across state lines or longer distances, enlisting the services of a professional trailer transport company like Interstate Haulers is always recommended – we can ensure that your trailer arrives safely at its destination on time.
With our vast industry experience, extensive fleet of well-equipped trucks, and experienced drivers, you can rest assured that your trailer is in good hands. Contact us today to schedule your trailer transport.