If you're a fan of the great outdoors, then you know how important it is to have the right camping gear. And for those who want to bring along their ATVs, dirt bikes, or other toys, a toy hauler camper is an excellent choice. But before jumping into buying one, there are a few things you should understand about these unique trailers. Keep reading to discover everything you need to know about a toy hauler camper.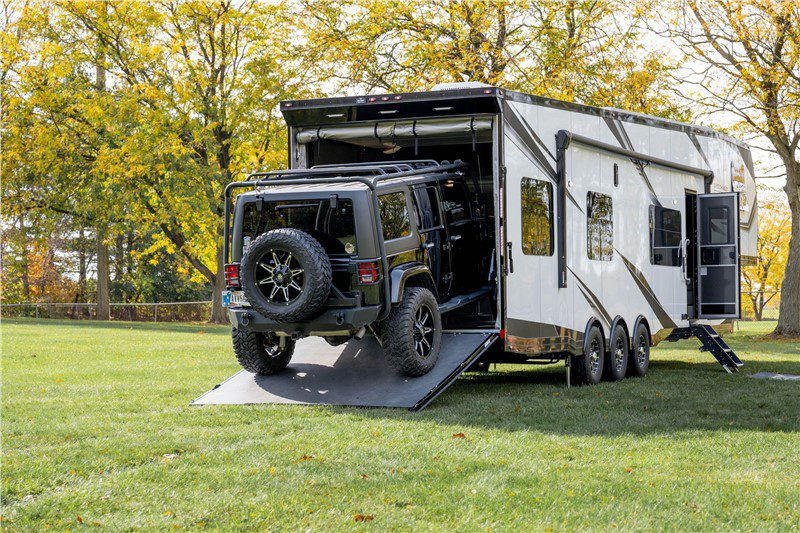 What is a Toy Hauler Camper?
A toy hauler camper is a type of recreational vehicle that features a garage area with a ramp door for loading and unloading your toys. These toys may include anything from ATVs to dirt bikes, kayaks, and more. The garage is usually located at the rear of the trailer, while the living quarters are at the front. When looking for toy haulers, consider what kind of motorhome type class you're looking for and start there.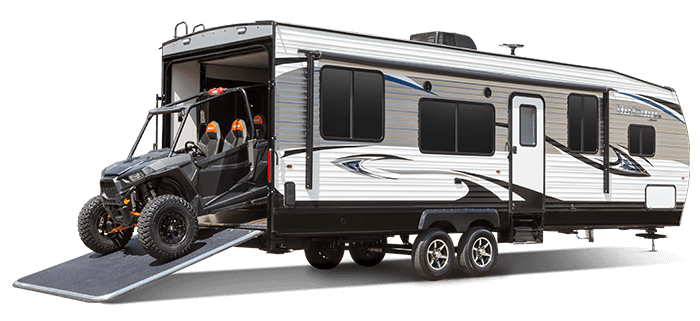 Types of Toy Hauler Campers
There are three types of toy hauler campers: travel trailers, fifth-wheel trailers, and motorhomes. Travel trailers are towed by a vehicle and are available in various sizes. Fifth-wheel trailers are also towed by a truck, and they usually offer more living space than travel trailers. Motorhomes are the largest of the three and most expensive, but also the most convenient as they house both the garage and the living quarters.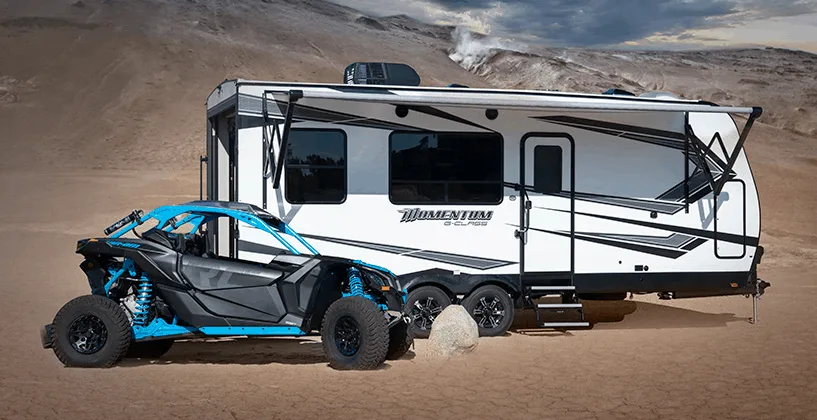 Advantages of a Toy Hauler Camper
The main advantage of a toy hauler camper is that it allows you to bring your toys with you on your camping adventure. You don't have to leave them behind or rent a separate storage space. This not only saves you money but also allows you to have more fun exploring nature on your favorite toys.
Another advantage of a toy hauler camper is that the garage space can be used for other purposes when you're not transporting your toys. For example, it can be used as a guest room, a living room, or even a home office. Having two bedrooms, one with bunk beds, is one of the biggest advantages to toy haulers.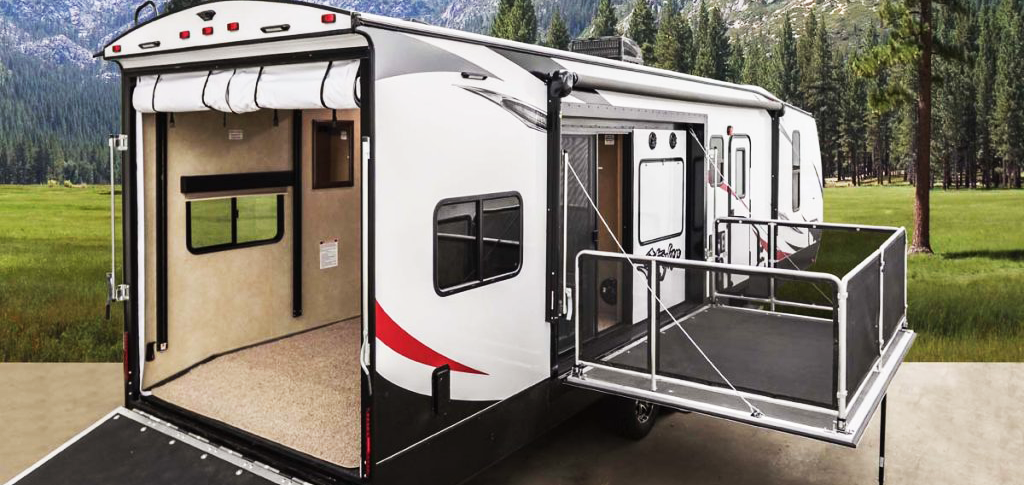 Features to Look for in a Toy Hauler Camper
There are several features that you should consider when buying a toy hauler camper. The first is the size of the garage space. It should be large enough to accommodate your toys and any other equipment that you need to bring with you.
You should also consider the weight of the RV and its towing capacity. Make sure that your pickup truck or SUV can safely tow the toy hauler camper with all your equipment and toys inside.
Other features to look for include the number of sleeping areas, kitchen appliances, free standing dinette or a u dinette, front bedroom and a rear bedroom for privacy, a pass through bathroom, rear living, kitchen island, a large living area, outdoor entertainment center, and enough bathroom facilities for your family. You should also look for high-quality construction and materials to ensure that the RV will last for many years of outdoor adventures.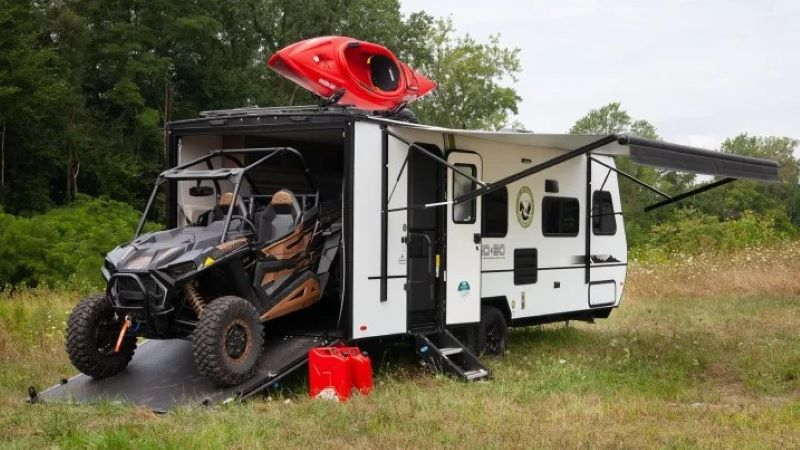 Garage Size and Capacity
One of the essential factors to consider when choosing a toy hauler camper is the max length and capacity of the garage area. The size can range from 10 to 18 feet, and it can accommodate various types of toys. Additionally, consider the max weight capacity of the ramp and make sure it can support your toys' weight. Don't forget to leave some space for tools, gear, and other essentials.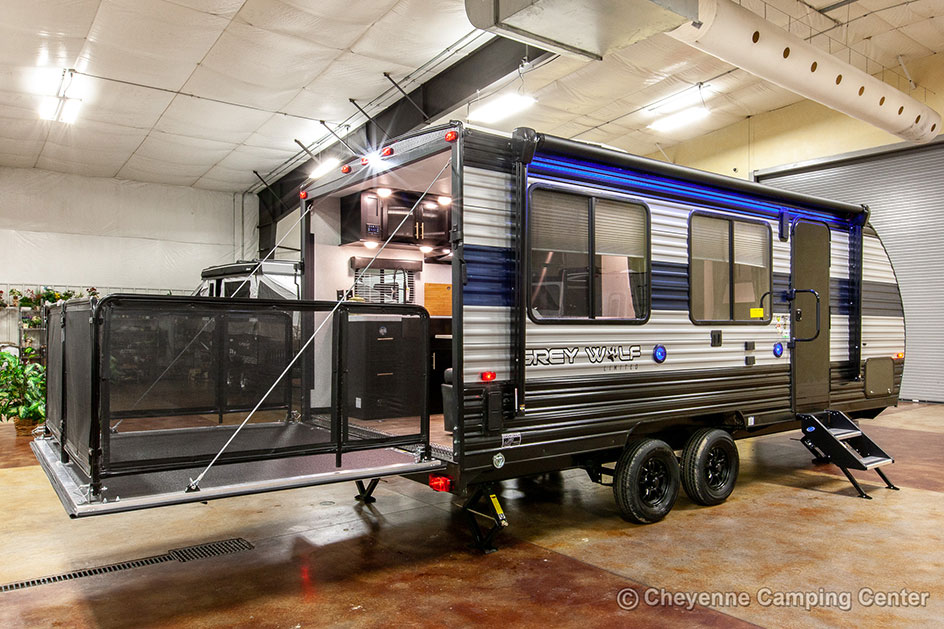 Living Quarters
The living quarters of a toy hauler camper vary based on the RV type, brand, and model. However, most toy haulers come with all the essential amenities, including a kitchen, bathroom, bedroom, and entertainment systems. Look for a unit that offers enough sleeping space and storage for your needs. When looking for your own camper, make sure to use toy haulers filters to find the right camper for you. Hopefully, local dealers have what you're looking for. If a local dealer doesn't have what you're looking for in stock, consider having your toy hauler hauled to you!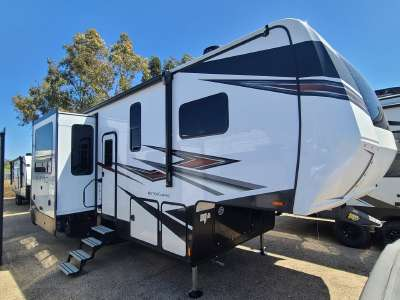 Additional Features
Toy hauler campers come with several additional features that make outdoor adventures more enjoyable. For example, some units offer an outdoor kitchen or shower, while others have a built-in fueling station for your toys or even a murphy bed or tent beds. Other great features include air conditioning, heating, satellite TV, and more. Be aware, that most toy haulers don't have a rear kitchen, so if that's what you're looking for, it may be hard to find. You'll likely want a hauler with slide outs and hard sides. Non toy hauler floorplans offer less in space, so even if you don't have toys, like four wheelers or razors, you may want to still consider toy haulers for your camping needs.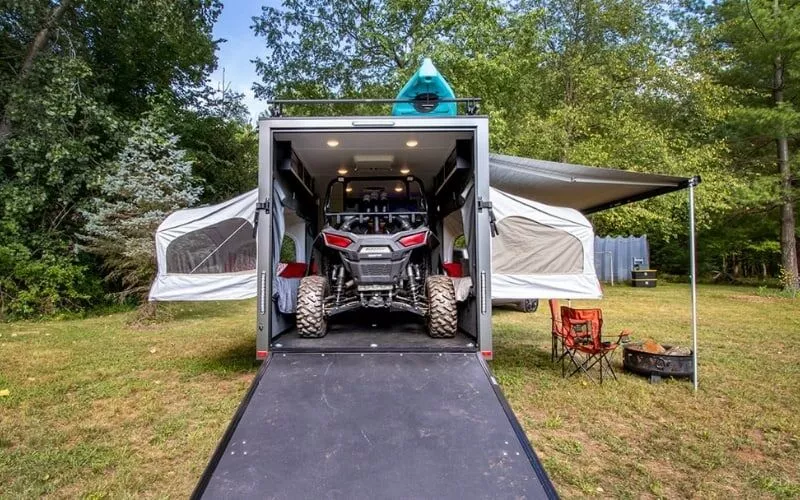 The Best 9 Toy Haulers On The Market: Our Top Picks for Adventure-Seekers
As an avid adventurer, you need a vehicle that can keep up with your active lifestyle. If you love hitting the road and exploring off the beaten path, then a toy hauler might be just what you need. These specialized RVs come with an extra garage space for bringing along all of your dirt bikes, ATVs, and other outdoor toys. But with so many makes and models on the market, how do you know which one is the best for you?
Grand Design Momentum G-Class
The Grand Design Momentum G-Class is one of the most popular toy haulers out there, and for good reason. This RV features a spacious living area with all the bells and whistles, including reclining theater seating, LED lighting, and a fireplace. But where it really shines is in the garage area, which comes with a 2,500-pound tie-down rating and an option for a HappiJac electric bunk system. Plus, with its rugged exterior and heavy-duty suspension, this RV is built to handle the toughest terrain.
Forest River XLR Boost
If you're looking for a toy hauler with some serious style, look no further than the Forest River XLR Boost. This RV features a sleek and modern interior design, complete with a black and white color scheme and stainless steel appliances. Its garage area is no less impressive, with a 5,000-pound tie-down rating and an electric bed system that can be raised or lowered at the push of a button. Plus, with its power awning and outside speakers, this RV is perfect for outdoor living.
Heartland Cyclone
The Heartland Cyclone is another top contender in the toy hauler market. This RV comes with some impressive features, including a 4K UHD TV, a residential refrigerator, and a king-size bed in the master bedroom. But where it really separates itself from the competition is in its garage area, which comes with a ramp door that doubles as a party deck. The garage also features a 3,000-pound tie-down rating and an option for a convertible bunk system, making this RV perfect for families.
Keystone Raptor
The Keystone Raptor is a tried-and-true favorite among toy hauler enthusiasts. This RV comes with all the essentials, including a spacious kitchen, comfortable living area, and plenty of sleeping space. But what sets it apart are its garage features, which include a 5,000-pound tie-down rating and an electric bed and convertible sofa. The garage also comes with a half-bath, making it easy to clean off after a long day of outdoor play.
Salem FSX
The Salem FSX toy hauler is the ultimate combination of adventure and luxury. Whether you're exploring off-road terrain or taking a cross-country road trip, this travel trailer allows you to bring all of your favorite outdoor toys along for the ride. With its spacious garage and lightweight design, the Salem FSX makes it easy to haul everything from dirt bikes to kayaks. And when you're ready to relax, you'll love the interior amenities, including a comfortable queen bed, full kitchen, and entertainment center. So why settle for an ordinary getaway when you can travel in style with the Salem FSX toy hauler?
Dutchmen Voltage
Another impressive toy hauler worth considering is the Dutchmen Voltage, which is designed to provide exceptional comfort and convenience while on the road. This RV features a garage area that can convert into a patio, a zero-gravity ramp door, and a 16-foot garage. Other features include a 2nd air conditioner, a king-size bed, a 12 cubic foot refrigerator, and a 3-burner range. With a dry weight of 14,000 pounds, the Dutchmen Voltage is ideal for extended trips and rugged terrains.
Forest River XLR Nitro
For a toy hauler that's lightweight yet feature-packed, look no further than the Forest River XLR Nitro. This RV has a dry weight of just 8,000 pounds, making it easy to tow with most trucks. Despite its small size, the XLR Nitro doesn't skimp on features, boasting a 13-foot garage, a 5,800-pound payload capacity, and plenty of interior amenities such as a 30-inch electric fireplace, a king-sized bed, and a ceiling fan.
Jayco Talon
The Jayco Talon is a top-performing toy hauler that packs a punch in terms of features, performance, and design. With an impressive 2,500-pound carrying capacity, this RV can haul all your gear with ease. It features a standard fueling station, panoramic windows, an electric awning with LED lights, and available solar power. The Talon's interior features a modern and comfortable design with modern appliances, air conditioning, and a spacious garage.
Dutchmen Astoria Platinum
Last but not least, we have the Dutchmen Astoria Platinum. This RV is perfect for those who want the luxury of a high-end motorhome with the functionality of a toy hauler. The garage area is incredibly impressive, with a 5,000-pound tie-down rating, an overhead loft bed, and a HappiJac ramp door patio system. Inside, the RV features a modern and stylish design, complete with a residential-style shower and luxurious master bedroom.

Do You Need Your Toy Hauler Hauled?
Do you need your travel trailer or toy hauler towed? Look no further than Interstate Haulers! Our experienced team is equipped to transport your RV safely and efficiently. Submit a quote request on our website today and let us take care of the rest. We understand the importance of staying informed, which is why we let you know when we're close; get update alerts so you know exactly when to expect your delivery. Choose Interstate Haulers for all of your towing needs.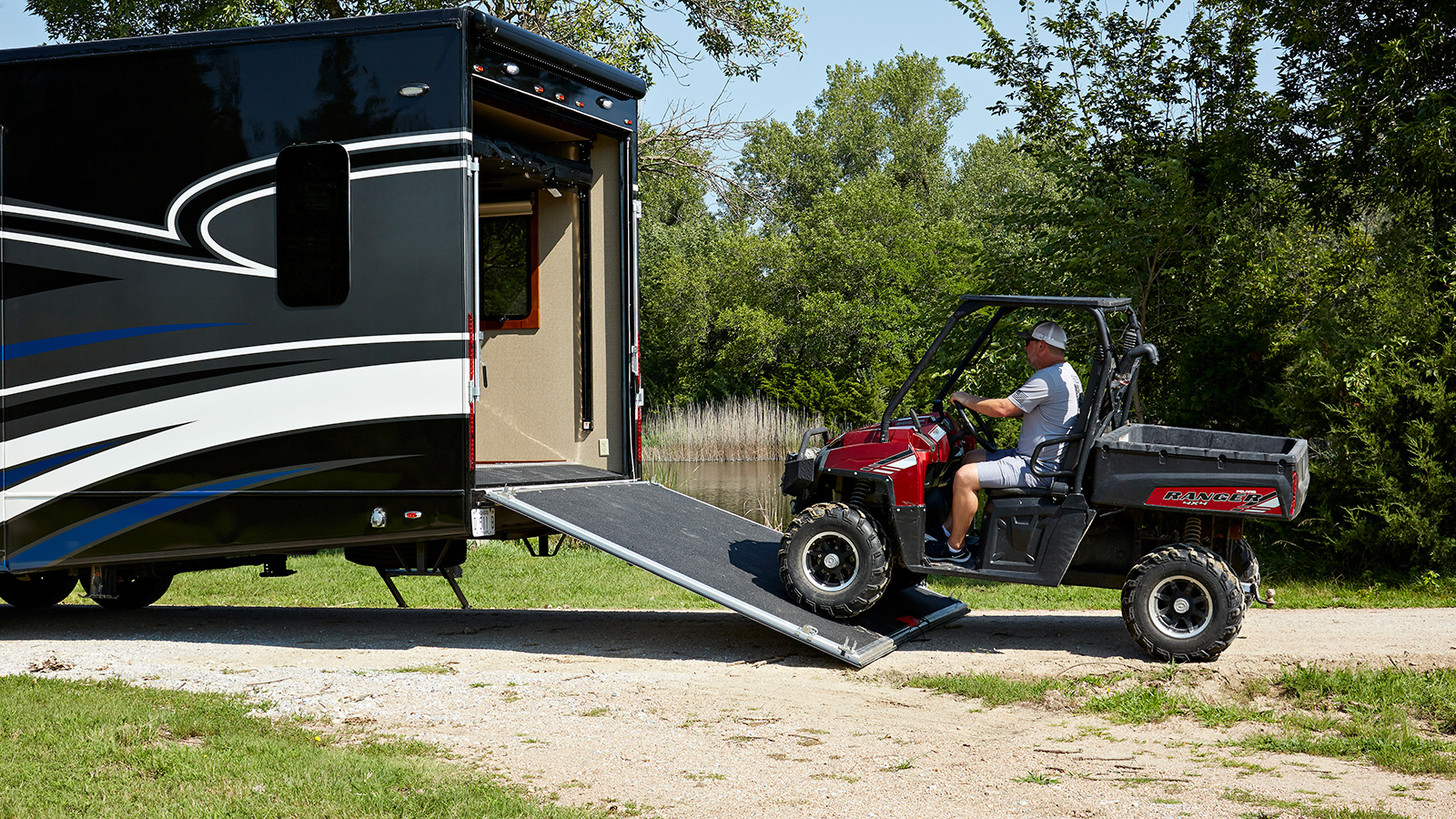 Conclusion
Toy haulers are an excellent investment for anyone who wants to combine their love of camping with their passion for outdoor activities. Whether you choose a travel trailer, fifth-wheel trailer, or motorhome, make sure it has the right features and amenities to meet your needs. By considering aspects such as garage size, weight capacity, living quarters, and additional features, you'll be on your way to enjoying endless outdoor adventures in your toy hauler camper.